Cambodian Pictures
Politics
Photographs taken in Cambodia from 1995 to 1999 by Rich Garella, except where credited to someone else. Photos with a colored border are linked to full-sized images. Click on them for a larger view.

FADING MONARCHY (1995) - At left, King Norodom Sihanouk waves to his "little people" as he leaves the Royal Palace to observe the longboat races during Phnom Penh's 1995 water festival.
Constitutionally committed to "reign but not rule", the King carefully limits his intrusions into politics, so as not to run afoul of the real power in the country, CPP strongman Hun Sen. The people--or at least most of the people--see the King as the embodiment of the Cambodian nation, and he seems to share this view.
Photo: David van der Veen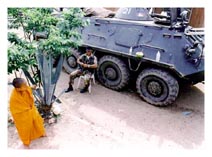 SAFFRON AND STEEL - Cambodia's traditional respect for monks has been violated on several occasions, worst during the Khmer Rouge regime when monks were stripped of their robes and forced to do physical labor. Tension grew again between monks and the Hun Sen regime before the 1998 election. As monks tried to intercede in police violence against protesters after the election, many were savagely beaten by police. The regime accused them of taking sides in politics--or of not being real monks. The UN human rights office found evidence supporting a widespread belief that some monks were murdered.
Photo: David van der Veen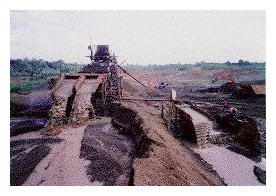 STRIPPING A NATION (February 1997) - The Khmer Rouge leaders who run the western stronghold of Pailin made millions by selling gem mining concession to the Thais, whose giant sifting machines have left the town an island surrounded on three sides by a sea of mud. Although Pailin's leader, Ieng Sary, cut a deal with Hun Sen in 1996 which theoretically put his zone under Phnom Penh's control, his lieutenants continue to profit from dwindling ruby deposits. At the beginning of 1999, Hun Sen allowed Khmer Rouge leaders Khieu Samphan and Nuon Chea to take refuge there, while claiming that to try to retrieve them for a trial would invite war.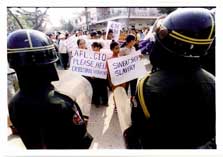 FACE OFF - Near the US Embassy, workers organized by the Free Trade Union of Workers of the Kingdom of Cambodia protest factory conditions. A growing number of garment factories owned by companies based in more industrialized countries in the region employ thousands in and around Phnom Penh. In many of the factories the workers, who are mostly young women from the countryside, are overworked, underpaid and physically abused in violation of the labor law, which was passed at the insistence of importers such as the US. Despite the regime's failure to enforce the law, the US has given Cambodia preferential trade status.
Photo: David van der Veen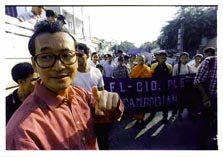 SYMBIOSIS - Sam Rainsy, the main opposition leader, with protesting garment workers on Street 240, in front of his office near the US Embassy. A US quota system limits each country to exporting only one percent of total US imports in each many categories of garments to the US, so companies based in the region must spread their factories around to different countries. But many of the garments labeled as coming from Cambodia are actually manufactured elsewhere. It is easy to buy false certificates of manufacture from Cambodian officials. This form of corruption allows garment firms to evade the quotas while taking advantage of the preferred trade status that is intended to help less developed countries like Cambodia. Of course, it lines the pockets of Cambodian officials too.
Photo: David van der Veen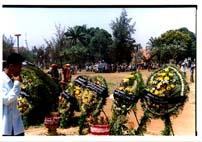 MIXED MESSAGES (March 30, 1998) - Across from the National Assembly, opposition mourners find themselves sharing a public park with supporters of Hun Sen's ruling CPP, who gather around a water truck during a break from their protests of the return of Prince Norodom Ranariddh to Cambodia. One year earlier, grenades thrown by Hun Sen supporters killed up to twenty people at a Rainsy-led demonstration on this site. Three months later, democrats and royalists alike fled Cambodia in the wake of Hun Sen's July coup. Ranariddh's return was arranged by the international community as one prerequisite of the upcoming elections in which his royalists would compete. While the Prince enjoyed the comforts of the second most pricey room in the Hotel Le Royal, his supporters scuffled with Hun Sen's in the streets.



PORTRAITS OF LOSS (March 30, 1998) - Holding photographs of their slain children, mothers still can hope for justice. No one has been arrested in the 1997 grenade attack, and an FBI investigation that pointed to Hun Sen's forces has been shelved without explanation. Credible rumors suggest that most members of the grenade-throwing team have themselves been murdered. The US Embassy allowed two probable key witnesses to fall into the hands of Hun Sen's police in 1998.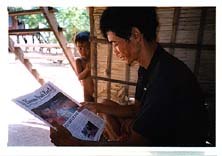 UNCONVINCED (May 1998) - From the balcony of the Foreign Correspondents Club in Phnom Penh you can look across the Tonle Sap river and see farmers working the silt soil on a peninsula called Chhroy Changvar, a world away. This is one of those farmers. If he looked back in late April 1998 he would have seen a crowd of journalists from all over the world, swilling gin and tonics and swapping stories of the death of Pol Pot. A couple of weeks later, I took an early morning swim over there. The farmers had not heard that the architect of the Killing Fields was dead. I returned a few days later to give him this copy of the Phnom Penh Post. BURNED LIKE OLD RUBBISH, says the headline. "I never saw a picture of Pol Pot alive," he said skeptically. "Even if it is Pol Pot, he is not really dead. There are many Pol Pots."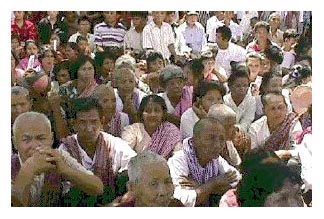 READY FOR THE VOTE (July 1998) - Prospective voters listen to Sam Rainsy at a campaign rally in Kompong Cham. The common wisdom among foreigners in Phnom Penh was that Rainsy was strong only in the capital. But in my experience traveling with Rainsy in several provinces, he was widely known and received with enthusiasm even in remote areas. The SRP handily won the one seat in Pailin, far in the northwest--the only constituency where the ruling CPP has no organization on the ground.
Photo: Kuy Marong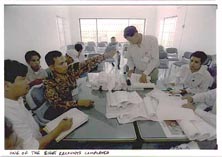 THROWING A BONE (August 1998) - Out of more than 1600 commune counting stations in the 1998 elections, the election commission only recounted eight, despite complaints that opposition observers were not allowed to watch the counting in hundreds of commune counting stations. In the middle of the ninth recount, the election commission abruptly closed up shop and announced it was done with the elections--the results were final..
Photo: David van der Veen

---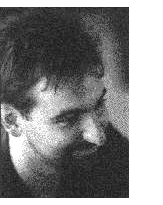 go to top of this page

e-mail me your comments